On Thursday, 12 June, Deus, Rebecca and I visited the Mitumba community in the North of Gombe.
Gombe is one of the few sites where researchers can study neighboring chimpanzee communities. At most sites, researchers focus on a single study community, and don't know very much about the neighbors. This was the case at Gombe for many years, but since the Mitumba chimpanzees were habitatuated in the 1990s, we have been able to follow chimpanzees from two communities simultaneously. And now, with monitoring of the Kalande chimpanzees, we can track the movements of nearly every chimpanzee in the park.
The prospect of studying intergroup interactions from both sides of the event is what led me to start working at Gombe, and has been a focus of my research ever since. Deus has played a big part in this, as he collected data on the Mitumba chimpanzees, first as a research assistant on the intergroup relations project, and then as a PhD student.
When I first started working at Gombe, we worried that males from the larger, more powerful Kasekela community would kill the remaining males from Mitumba and take over their range. And sure enough, soon after I started working at Gombe, the young male Rusambo was found dead, with severe wounds, the day after Kasekela males traveled deep into Mitumba's range (Wilson et al., 2004).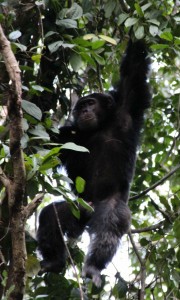 However, since then, the Mitumba males have held on, and even seem to have expanded their range a bit. And while intergroup incursions from Kasekela have continued, including the killing of the young infant Andromeda (Wilson, 2013),  it is the Mitumba males who have proved a greater threat to themselves. Mitumba males Edgar and Rudi killed their former alpha male, Vincent, in 2004. Soon after, the young male Ebony was found dead. Since then, Edgar and Rudi have fought bitterly and Rudi has disappeared. Edgar seems determined to keep Mitumba for himself, as if he were a gorilla silverback.
When we arrived in Mitumba, we walked up the steep, narrow valley of Mitumba stream. Gnarled old Mgwiza trees grow along the stream banks, and Lusieno trees tower overhead.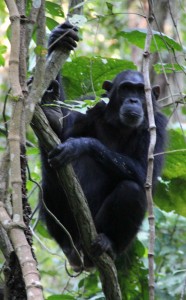 We found chimps close to the stream. Edgar followed Flirt closely. She had a full swelling and he clearly wanted to keep her all to himself. Flirt is one of Fifi's daughters. She was born and raised in Kasekela. She was orphaned when her mother died in 2004, but managed to survive, spending much of her time with older brother Frodo. Flirt is one of the very few chimpanzees I ever saw Frodo groom.
After Flirt reached sexual maturity, she did what female chimpanzees usually do:  transferred to a new community. With Edgar showing so much interest in her, maybe she will conceive an infant soon.
Young male Apple followed them from a distance.  Apple is one of the
rising generation of Mitumba males, along with Kocha and Ramba. If these boys survive to maturity, then Mitumba may have a chance at keeping Kasekela at bay and maintaining Mitumba as a viable community. But with Edgar's track record of attacking other males, maybe he won't let these young competitors survive. If Edgar continues killing all the young males, his line may end in a Pyrrhic victory: eliminating not only his competitors, but his only allies against the mighty Kasekelans.
After coming down from the trees, the Mitumba chimpanzees soon climbed up the steep slide of the hill, giving us a chance to experience some classic Mitumba chimp viewing: crawling on hands and knees through vine tangle.