Some years ago, I learned that one of the keys to happiness is birding. I was serving as a lecturer on a tour of parks and game reserves of southern Tanzania. We went to some amazing places — but the people devoted to spotting mammals were often unhappy. The woman who desperately wanted to see a leopard was deeply disappointed, as we didn't see one. I told her I had spent years doing fieldwork in Africa but had only seen a leopard once; this provided little consolation for her. She had paid lots of money for this trip, and she wanted to see a leopard. At Mahale, the tour split into two groups, one of which had luck finding chimpanzees, while the other group didn't. The people who didn't see chimpanzees were bitterly disappointed and spent the rest of the trip drinking deeper into the supply of white wine. At Selous, a vast and magnificent game reserve, people complained, "We didn't see anything today! Just zebras and giraffes. Oh, and hippos and elephants." For the people focused on seeing mammals, seeing herds of amazing megafauna quickly became routine, shadowed by their unsatisfied desire to see something even more charismatic.
The birders, however, were happy everywhere we went. Even at the end of the trip, at the Dar-es-Salaam airport, one cheerful white-haired birder was delighted to see house sparrows, which boosted his total count of bird species seen on this trip to over 100.
As the Buddha said:
If you desire those desires that will be satisfied, you will be satisfied; if you desire those desires which will be frustrated, you will be frustrated.
Surprisingly, few people seem to be aware of birds. People don't look up. While walking across the Washington Avenue Bridge between the West and East Bank campuses of the University of Minnesota, I have often seen a bald eagle soaring overhead – and crowds of people walking underneath the eagle, oblivious to it. The key to happiness is right there, and yet people ignore it.
Birds are more diverse than mammals, in terms of number of species: perhaps 10,000 birds, compared to about 5,000 mammals. Birds are mostly active during the day, when they are easy to see, whereas most mammals are active by night. Nearly 60% of all mammal species are either rodents (~2000 species) or bats (~925 species), which are mostly nocturnal. In a city like Minneapolis, most of the resident mammals are either nocturnal or crepuscular. In my urban neighborhood near the Mississippi River, we have many mammals: bats, shrews, mice, chipmunks, squirrels, rabbits,  woodchucks, skunks, raccoons, opossums, and even foxes, coyotes, beavers and deer. Despite this diversity, most of these mammals stay hidden  during the day. Birds, in contrast, are more conspicuous: often brightly colored and active during daylight hours.
Why do birds rule the day, while mammals rule the night? Because birds are dinosaurs. During the Mesozoic, when dinosaurs ruled the world, mammals were tiny things, cowering in the trees or squirreled away in their burrows, daring to come out only at night.
Our perception of dinosaurs is distorted because only the flying dinosaurs survived the Chicxulub meteor impact in the Yucatán 66 million years ago. It's like if we lived in an alternate universe where the only mammals that survived on earth were bats. (New Zealand was like this before human settlers arrived; it was a land dominated by giant flightless birds, with no land mammals except for bats.) Then if we found fossils of elephants and hippos we would be amazed at these giant creatures of the past and find it hard to believe they were at all related to the little flitting bats.
After the Chicxulub impact ruined the world for flightless dinosaurs , some mammals gradually evolved daytime habits. But most mammals remain creatures of the night and twilight. Nocturnal habits mark mammals as a group. Ancestral mammals lost the full color vision of their fishy ancestors. Most fish, amphibians, reptiles and birds have four types of color receptor (cone cells) in their retinas, whereas most mammals have only one or two kinds of cone cell. With the value of vision reduced by darkness, mammals rely more on scent and touch, their faces marked by moist noises, large nasal passages, and sensory hairs. In contrast, birds, like their dinosaur ancestors, continue to rule the day.
Primates are among the few mammalian groups that are mainly active by day. Some primates, such as bushbabies and many lemurs, retain the primitive mammalian traits: moist noses, 2-cone color vision, and nocturnal habits. But other major primate groups have evolved dry noses (part of a reduced reliance on smell), 3-cone color vision, and daytime habits. They can afford to do this because, like tree squirrels, they rely on the safety of trees to protect them from predators. (Even in trees, though, primates still have to worry about predatory dinosaurs. Crowned hawk eagles in Africa kill monkeys as large as adult red colobus monkeys. The Taung child, the first fossil hominin discovered in Africa, was killed and eaten by an eagle.)
One of the great pleasures of visiting Filoha was the abundance of birds.
The mammal fauna of Awash National Park has been severely depleted by hunting and by competition with pastoralists. There are no more elephants or rhinoceroses. Larger antelope are scarce or shy, though I glimpsed a lesser kudu bounding across the road, and from time to time saw a dik-dik scampering through the brush off to the side of the road: beautiful tiny little fairy antelope. Because so many cattle, sheep, goats and camels graze in the park, food is scarce for other herbivores. And because of the people herding the livestock, most larger mammals stay hidden during the day. But the birds are there.
Because the trees are small and sparse, the birds are easy to see. I saw Hoopoes several times, though never when I had my camera handy. These are lovely brown birds with elegant crests. White-headed Buffalo Weavers emerged frequently from the acacia trees.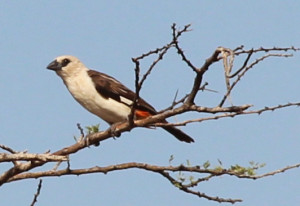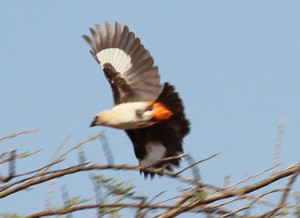 Weavers as a group are fascinating birds. Living up to their name, they build tightly woven nests in trees, with a characteristic nest shape for each species. The nests commonly have a snail-like shape to deter predators: an opening at the bottom, leading around a corner to a nest cavity. (Though even these clever nests are not perfect protection from predators: I have seen redtailed monkeys and harrier hawks reach into these nests and pluck out baby birds.)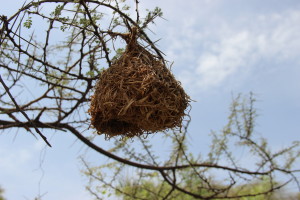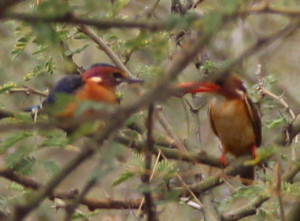 We saw Hornbills frequently, and caught one good glimpse of a pair of brilliantly colored little Malachite Kingfishers.
Lilac Breasted Rollers — which have almost more colors than really seems fair for any single bird— and irridescent Longtailed Starlings hung out close to camp. In America, starlings are kind of boring blackish birds, noisy and superabundant invasive birds from Europe, but in Africa, starlings are gorgeous and glossy.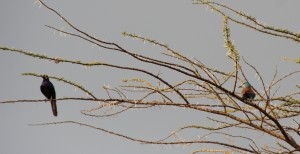 The most spectacular place for birds, though, was in the wetland near Filoha camp.
The research camp is located at the foot of a cliff, which is the edge of a lava flow from several hundred years ago. Awash is located in the Rift Valley, where East Africa is slowly separating from the rest of Africa. Eventually, East Africa will become one or more large islands off the coast of Africa, like Madagascar is today. The Rift Valley is a place where crust is oozing up from below, filling in the gap between the separating plates. Along the entire length of the rift, earthquakes are common; some of the buildings at Filoha have cracked and crumbled cement foundations from a recent tremor. Awash is dominated by a great volcano, Mount Fentale. And much of the park is covered with lava flows of varying ages.
Filoha means hot spring, and the hot springs are the main attraction that brings tourists and local people to this part of the park. Local people believe the hot springs have magical powers which promote healing. Given that the average temperature in the park is already suffocatingly hot, it seems a bit excessive to add hot springs. One source stated the temperature of the springs as 43.5 ºC. Given that air temperatures can rise over 45ºC, at such times the hot springs must seem refreshingly cool.
The researchers bathe in the hot springs, using a little waterfall at the edge of the cliff. They can only do this on days that they get back from the field early enough, though; after dusk the danger from lions and hyenas grows too great. The same waterfall provides the major source of drinking water. The hot springs empty out onto a green expanse of mudflats, streams and wetlands. Padding along the mudflats and wading in the pools are Sacred Ibises, Hadaba Ibises, Spurwing Plovers, African Spoonbills, Grey Herons, Egrets and others.
Crocodiles lurk in the shallow pools, hunting fish. So nice to see these ancient cousins of birds – fellow Archosaurs – just meters away (but at a seemingly safe remove).
The path to the hot spring pool leads across an expanse of mudflats with real quicksand. The quicksand looks like a patch of bare earth, but if you hit it with a stick it quivers like Jello. Vehicles occasionally get stuck in the quicksand, as do people. But the wetland birds, with their long dinosaur toes and light bodies, seem to be safe.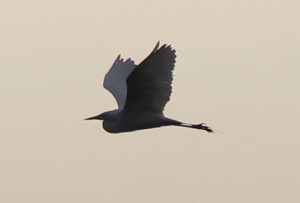 It was deeply satisfying to be among animals that figure so prominently in the art of ancient Egypt: Sacred Ibises, crocodiles, and (coming up in the next post!) Hamadryas baboons.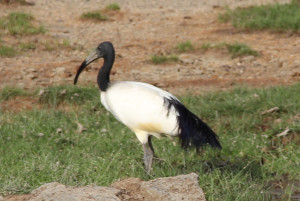 Works Cited
Further Dialogues of the Buddha, Vol. II, p. 237. Quoted in Philosophy of the Buddha by Archie J. Bahm (1958). Harper & Brothers.